Back when we first installed what we call the Cee garden (so named because the aerial view of the bed looks like the letter C) my vision was to use the red and fuchsia Monarda we inherited at the house along with the fuchsia peonies we were gifted by my parents (they came with the home I grew up in and are permanent fixtures in my childhood memories) as the color-story jumping off point. It meant, in my mind, that the garden would be shades of red to deep pink to pale pink. While I can say that the color story is a success, I can't say the same about the plant selections.
The issue is bloom longevity and dying back gracefully. Its a relatively compact garden (its about 35′ square with a 17′ diameter round paved are in the middle which houses a fire pit and chairs). This means the beds aren't particularly deep, save for the corners. The paved area with the firepit is also sunken, save for where the entry into the Veg garden meets it.
I think that by restricting my color schemes and trying to work with freebies, I ended up with a tangle of things, some of which work really well in the space (Bloody Cransebill Geranium, Daylily 'Strawberries and Cream', the Peonies, Betony) and a whole bunch of things that look great when they are at their peak, but die back ungracefully or take over (Pensetmon 'Dark Towers' and 'Husker Red', Lysimachia, Coral Bell 'Firefly', Big Bluestem, Monarda, Salvia).
I also think with the stone wall and nearby charcoal fence, and the sunken nature of the space, the all-pink color scheme lacks pop and punch. It doesn't feel exciting except for when the peonies and irises are blooming. The rest of the year it can feel a bit drab and underwhelming. That's one thing that needs fixing. The other is that as summer wears on (starting in late July!) the garden is on the wane. Too many of the plants that look good don't long enough meaning once we get to September, its a desolate wasteland of gross. Yes, that's dramatic, but see for yourself:
Given that I will keep the four Fothergilla 'Mt. Airy' shrubs, the peonies, the geranium, daylily, sedum, betony, and Praire Smoke- all of which are in shades of pink- I need to come up with a color scheme and the corresponding plants to make this space work better.
I'm leaning towards adding in both darker maroons and apricots to oranges to amplify those pinks and add some brightness and excitement to the mix. I've long loved the color scheme of the floral displays at Princess Eugenie's wedding in 2018 because it is so dynamic and easy to apply to an actual garden.
What I love about these arrangements is that it is a rather rich tapestry and allows for more plant freedom. Plant freedom = better performance! With our Zone 4 and sand soil situation, we are already pretty limited in plant choices so when I limited my color scheme, it forced me to utilize plants that fit the color story but weren't going to be stellar performers. Opening up the color scheme will allow me to focus on performance first.
Color Elements:
Blue– I'll likely have to rely on plants like Blue Fescue (I'm delighted that I already have some seedlings of this just waiting for a home) and Blue Sedge (Carex flacca). Those lovely blue-tinged hostas would be fantastic, but I fear the space is just too sunny to make them work. Mrs. Wilmott's Ghost Eryngium could work well here too.
Purple– I've got a handful of Millennium Onion seedlings that will be really happy in this space and do a great job of providing color and structure here. I'll also add in some purple New England asters because nothing beats them for fall color and interest.
Apricot– This is another color that could easily be filled by a daylily, coreopsis, California poppies 'Apricot Chiffon' or 'Rosa Romantica', Dianthus 'Chabaud Orange Sherbet'
Orange– I'll happily (after this year's success) pop some French marigolds, like 'Tangerine', in here for staying power, but orange is an 'easy' color for our conditions so daylily,
Maroon– This one is a bit harder for us here in Zone 4, but there are options like Hollyhocks, Helenium 'Helena Red Shades', and of course there are great daylilies with that oxblood color that will offset the more vibrant and paler pinks.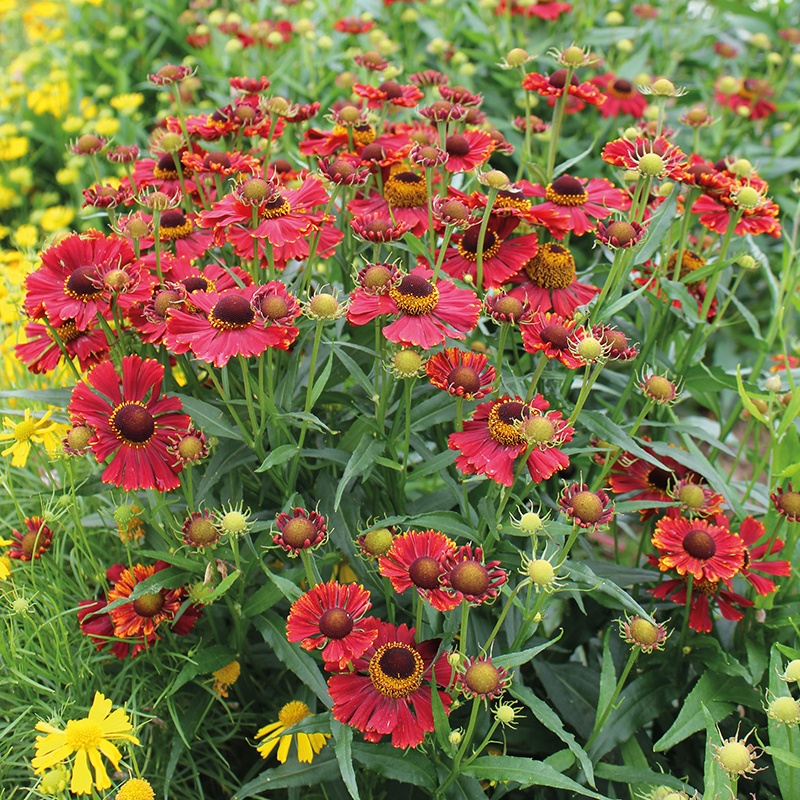 Lighter Colors– Angelica Archangelica (aside from its delightful name) would make great use of some wetter spots and Armeria 'Alba' is a firm favorite that loves our conditions.
Miscellaneous– I'd be tempted to pop in a dwarf hydrangea variety (Endless Summer 'Twist n Shout') as well as source some hardy Chrysanthemums in rich colors.
I think that when I planned this space, my mind saw it as a semi-formal space. Now that we've lived with it for a few years, I'm not so sure. I'm hoping that a more flowing planting scheme will help give this space the vibrancy and energy it needs while allowing certain plants to shine in bigger clusters.
In any event, this will be the primary project and planning to head into the winter months and I'll hopefully be able to procure most of the plants I need via seed or divisions. Ripping out the things that won't stay is going to be a big job, but it will also give us a much clearer idea of just how much space we have and how to rebuild this garden.
Do you all have any big projects for next year that you are already eyeing up? Have you overhauled a space and been glad you did it or regretted it?