Oh man you guys. I've written a half dozen blog posts that couldn't bear to publish. Some are anxious, some annoyed, some blithely defiant. None of them felt right and all of them went in the bin. Turns out I don't know what to say or how to say what I'm thinking about all this COVID-19 business. And that's okay! The world does not need another think-piece about it and Maude knows none of you lot come here for that sort of content. So I shall move onward and, well, ignore the elephant in the room to the best of my ability.
I'm spending at least 20 minutes in the garden or outside after a day of work (weather permitting, but my standards are very, very low at the moment), sometimes far longer. It helps to contemplate future projects, watch things growing and emerging, and make plans we know we can execute. Its good to keep looking forward I think.
I've turned my attention to the sister space of the planned pond area. It is, overall, a bit of an odd area fully of my designing. Its wide and short, bordered by hedges and bisected by what will become a continuation of the path from the main garden. Its sandwiched between the orchard and said main gardens. The area in question is relatively flat and is backed (to the East) by a border of mature pines.
Its been a bit of a struggle to figure out what to do with this area. Initially the plan was to treat it as a singular space with honking wide perennial borders like something out of an English Manor house. But the topography never worked with this area and we've gone back and forth with a whole litany of ideas. Now that we've established that the half near the driveway will house the wildlife pond, its down to deciding how to use this new half.
Option One: Grassy-ish Lounge and Games Area
I suppose this is the least effort option but the least practical/useful option, save the few times we have loads of people and kids over to the house. It would involve furniture, games, and shade contraptions and all of it would need to be moved every time the lawn needed moving or whenever rain threatened. This is a good-on-paper plan, but a mediocre-in-reality plan I suspect.
Option Two: Decorative Fruit Garden
Taking inspiration from the National Collection rhubarb beds(!!) at RHS Harlow Carr (below) the idea would be to turn the area into organically shaped beds mostly dedicated to soft/small fruits.
We would move the rhubarb and blueberries out from the Veg Garden and then add in some other soft fruits like gooseberries or currants. We could fill in around them with perennials (or even annuals?) to give it some pop and year-round interest.
This solution allows us to grow more of the things we really love (and I really, really, REALLY love rhubarb) and free up some extra space for other experiments in the Veg Garden. It would be both functional and decorative. Bonus points if I could get my grubby little hands on some of those gorgeous terracotta forcing jars.
Option Three: Woodland-ish Garden
This would theoretically tie in with what we'll have going on in the other half of the space with the wildlife pond and I've long been enamored with the garden Sarah Price created for 2012 Chelsea. My main concern is that this design clearly relies on trees that will eventually become sizeable. When they do, they will shade out a good portion of the East half of the Main garden and potentially even the greenhouse.
I'm sure that this is not the way forward, but it is an appealing idea.
Option Four: Paradise-Inspired Garden
The already square shape of the space lends itself to the basic layout of a paradise garden. The trees in paradise gardens are almost always kept short so dwarf varieties could be used along with native or nativar grasses like Prairie Dropseed and other pollinator friendly plants.
I do struggle with how it will relate to (or if it even needs to relate to) the pond on the other side. But it does bridge the gap between wild and formal in a way that would suit the space well. We could repeat plants between the two spaces to help visually link them, even if the design and intent is different.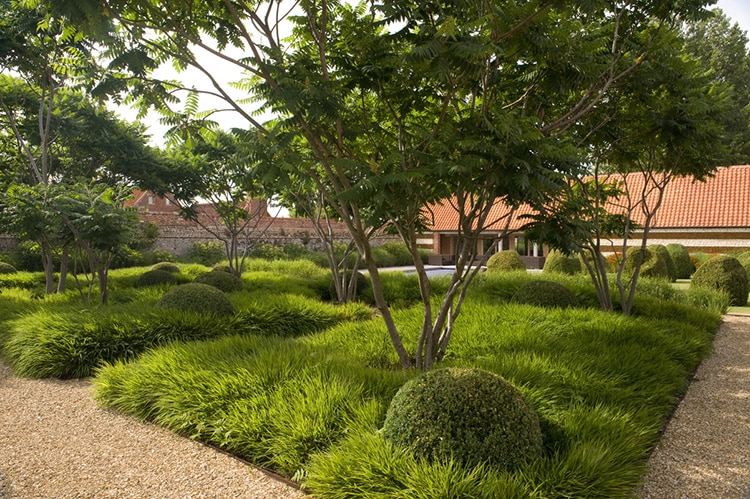 So, with all that information, I'd love to hear what option you'd go with if this space was yours! Or if you have even a better idea? Please share (either in the poll or the comments!)
Be well, wash your hands, and stay healthy!