Oh readers, I've done a thing. I planted out all the bulbs I ordered, finishing with about 100 daffodils. It felt so good! For like, 15 minutes.
Then, I found myself standing out in the yard, bulb planter in one hand, the other hand on my hip, and an empty tray at my feet. I needed more. Wanted? Whatever, samesies.
There was an area I'd hoped to have daffs in for next spring but I ran out of bulbs. So yesterday I did what any good gardener would. I ordered more. Thankfully Brent & Becky's had a number in stock that would fit the bill. And a few extra that weren't in the plan (naturally).
The two I intended to pick needed to have a red/coral cup to play into the pale coral of 'British Gamble' that was planted nearby last year. I wanted a bright pop of color as the location of these bulbs is prime viewing from the house.
15 Narcissus 'Monal'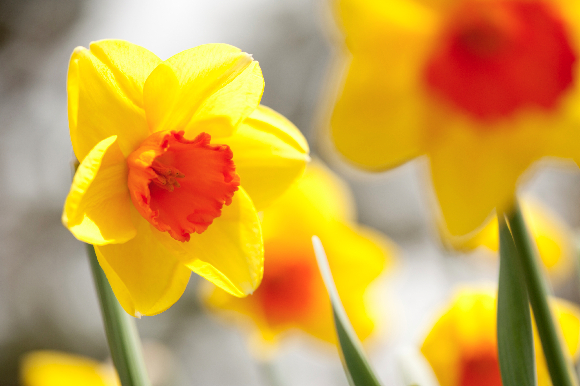 These will transition nicely from the nearby 'Classic Garden' to the stunners below that I can't believe I didn't find and fall in love with sooner.
25 Narcissus 'Brooke Ager'
How is that for bold color in your daffodils? I'm so excited for that punch of color these will give a normally underwhelming corner of the yard come springtime. They are the bolder, brassier compliment to 'British Gamble' and I'm excited to see how they set each other off.
Now, these beauties (I'm a sucker for upturned/windblown petals) caught my eye and I didn't have a place for them in mind, I just knew that if an order was being placed and shipping was being paid, well, it'd be a shame if they didn't come along for the ride.
10 Narcissus 'Winter Waltz'
I mean, how can those not bring a smile to your face? I've decided to put them at the entrance of the Dry Cottage garden where they will be both easily enjoyed and a bright, cheerful welcome into the garden.
As soon as they arrive I'll be back at it with the bulb planter. It will probably be cold and joyless affair, but come spring I'll be so happy I put in this extra order.