Last winter was atypical in many ways, but the irregular weather didn't impact the garden too much. The one big difference was the scale of the winterburn on the Yews. In years past it has only ever been a light dusting of brown needles that were quickly brushed aside upon spring's arrival. This spring, however, the damage was more significant- major pruning had to be done on the South faces of every plant to remove the damage and get the plants looking right again. It was ugly, a bit unnerving, and messy.
We quickly decided that this fall's garden task list would include burlaping the Yew to stave off the winterburn. An ounce of prevention…
I did do research, as I am wont to do. Trying to figure out how to maximize the impact of the burlap while minimizing the construction. One look at how Martha Stewart does it and I was ready to bail on the project. But the University of Wisconsin had a great article on how best to protect the plants with maximum efficiency. Hooray!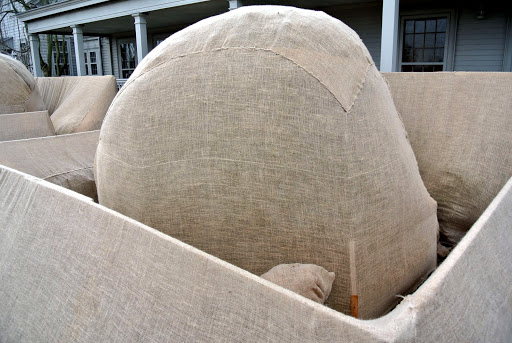 I gathered some hardwood stakes (6 and 5 foot lengths) and about 100 feet of jute plant protecting burlap from a garden center. A whole bunch of staples, the staple gun, a tape measure, and a good (but not too good) scissors. I'll be honest, the burlap's weave was a bit looser than I had hoped it would be, but hopefully it will do the trick!
The construction was not a fancy affair. I stapled the stakes in place on the driveway and then hauled it all up together and placed it along the way. The mini sledge hammer got a workout (as did my shoulders, wrist, and triceps) pounding in the stakes. The 6 foot takes felt like overkill as we were struggling to get them in deep enough, but I suspect they will be worth it come January and February blizzards.
I used one single, long length to cover each of the two hedges- both for simplicity's sake and because I think it will provide more protection. They don't look like much, but they should give a good deal of protection to those south facing edges. I didn't take the burlap down to the ground because a) I'd lose much needed height and b) that distance will be covered up in good old fashioned insulating snow well before Christmas.
The singletons got their own individual cocoons. Again, both for efficiency and maximum protection. These got their tops closed up a bit simply to help shed heavy snows and prevent build up inside the tubes.
I hope this effort pays dividends come spring. It certainly can't hurt. But for good measure, I labeled all of the sections so that I'll know where they go next year.
Have any of you had to burlap evergreens? Has it worked well? I'd love to hear about your experiences with it!